Health and care partners across Lincolnshire have joined forces to support the national 100-day discharge challenge.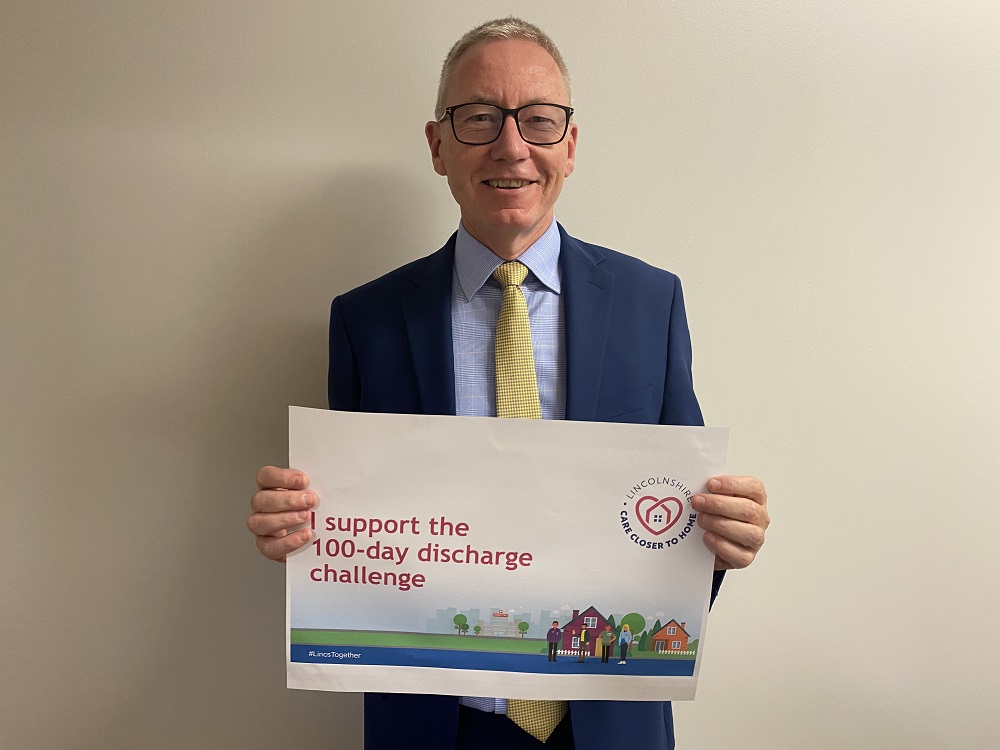 The 100-day challenge was launched by NHS England on 1 July, and it involves NHS providers, charities and the local council working collaboratively to improve the discharge of patients from hospital. By improving discharge systems and processes, the people of Lincolnshire will have access to a hospital bed when they need it and patients will be discharged as soon as they are able to be to continue their recovery and care in the comfort of their home, with local support in place if they need it.
Partners in the challenge include Lincolnshire Integrated Care Board (ICB), Lincolnshire Community Health Services NHS Trust (LCHS), United Lincolnshire Hospitals NHS Trust (ULHT), Lincolnshire County Council (LCC), voluntary organisations, patients and their families.
August has seen the highest number of discharges recorded in a single day, with over 200 discharges being completed. Of those 200 people, just over 50 people required ongoing care and were discharged with a package of care and support from local health and social care organisations to enable them to safely leave hospital and start their recovery in the best place for their needs, either within the community or at home. Several Multi-Agency Discharge Events (MADE) have taken place across community and acute hospitals, which have contributed to the increased number of discharges and a reduction in pressure on local hospitals.
Nikki Pownall, System Flow Director in Lincolnshire, said: "Health and care professionals from across Lincolnshire have come together and are working extremely hard to improve our services. We are collectively aiming to achieve best practice, improve processes and strengthen communications with patients and families, so together we can make a real difference and improve patient flow and treat those who need acute medical care most."
"It's an initiative we are all very passionate about and we are working on several projects to make improvements and I'm looking forward to seeing what we can achieve to ensure that patients are able to go back home as soon as they no longer need hospital care. Once the need for hospital treatment is no longer required, it is important to think 'home first' with support if needed, as this is the best place for recovery, reablement and independence."
"We would like to thank every organisation involved in the MADE days so far; by working together we have been able to effectively discharge patients safely where it has been possible."
Most people admitted to hospital want to get better and get home, as soon as possible but delayed discharges – where people remain in hospital when they no longer need hospital care – cause problems for all concerned. Delayed discharge causes several issues including: the increased risk of a hospital-acquired infection, low mood and reduced motivation, which can also increase the risk of readmission to hospital. For older people, in particular, long stays in hospital can lead to loss of muscle strength which can hinder their return to living independently or increase the level of support they need. For the NHS, poor patient flow through the hospital, causes additional pressures on hospital beds and a build-up of patients in emergency departments and the potential for planned surgery having to be cancelled if there are no beds available for patient recovery.
Sadie Aubrey, GP and Clinical Lead for Care Closer to Home in Lincolnshire, said: "We are pleased to be part of the 100-day challenge, and it's been great to see the actions taking place already to help support patient flow across our hospitals."
"We will be working to identify ways to help ensure patients are discharged as quickly as possible, safely, from hospital and how we can better support these people to live well in their communities."