World Diabetes Day is November 14 and the NHS in Lincolnshire is raising awareness the risks associated with the condition and the support that is available across Lincolnshire.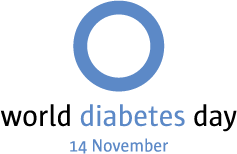 Diabetes is a condition where the amount of glucose in your blood is too high because the body cannot use it properly. Currently, there are more than 4.9 million people diagnosed with diabetes in the UK, approximately 13.6 million are now at increased risk of type 2 diabetes and 850,000 people who have the condition but don't know it.
The main symptoms of undiagnosed diabetes include:
passing urine more often than usual, especially at night

increased thirst

extreme tiredness

unexplained weight loss

genital itching or regular episodes of thrush

slow healing of cuts and wounds

blurred vision
If you have any of the above symptoms, don't hesitate to contact your GP practice. Early diagnosis, treatment and good control of diabetes can help to reduce the chances of developing serious diabetes complications in the future.
Type 1 diabetes cannot be prevented however there is a wide range of support that is available across the NHS. But up to 80 per cent of cases of Type 2 diabetes can be delayed or prevented by making simple changes in our everyday lives – such as eating healthier, getting more active, quitting smoking or limiting your alcohol intake.
For those at risk, there is a free NHS Diabetes Prevention Programme in Lincolnshire to help you take control of your health, supporting you to make changes to reduce your risk of developing Type 2 Diabetes. To find out more about the programme go to www.preventing-diabetes.co.uk
In addition, across Lincolnshire we have seen an increase in instances of Gestational Diabetes. This is high blood sugar (glucose) that develops during pregnancy. It happens when your body cannot produce enough insulin (a hormone that controls blood sugar levels) to meet your extra needs in pregnancy. Support will be offered throughout their pregnancy by their GP, midwife or consultant.
Women, who have been diagnosed with Gestational Diabetes, are able to join the NHS Diabetic Prevention Programme after they have given birth. Here you will receive personalised support to reduce your risk of Type 2 diabetes and Gestational Diabetes in future pregnancies. It includes simple lifestyle changes that have been proven to reduce the risk of developing the condition. Ask your Practice to refer you to this Programme.
It is also important to come forward or your covid vaccination when called and ensure you attend for both your first and second doses. Diabetes is one of the risk groups identified by the Joint Committee on Vaccination and Immunisation (JCVI), and there is evidence that, along with certain other underlying health conditions, it can increase the risk of morbidity and mortality from covid.
If you are experiencing any of the symptoms associated with diabetes, you should speak to your GP practice or midwife in the case of Gestational Diabetes. It might not be anything serious, but if it is diabetes, the earlier that you start to take control of your condition the better.
Being diagnosed with diabetes can feel overwhelming, but we are here to help. It's also important to remember that you're not alone. Support groups can be a great help and can give you the opportunity to express how you're feeling in a safe space and connect others in a similar position. The Diabetes UK website has more details on how to get support Diabetes support | How we help | Diabetes UK. If you want to get in touch with a trained counsellor directly, you can call the Diabetes UK care line on 0345 123 2399 (Monday to Friday, 9am-7pm), or email careline@diabetes.org.uk
---