When am I going home?
We know that it's much better for your physical and mental wellbeing to leave an acute hospital as soon as you are medically ready to do so. That's why we are doing everything we can to reduce prolonged hospital stays and 'get you home to what matters to you', this can be to your beloved pet, your favourite armchair or simply using your own tea bags again. If you can't go straight home, we will work with you to provide an alternate place most suited to your needs.
Once we are happy that you can be discharged, your hospital bed will become available to another person who needs a high level of care.
---
Have you seen the campaign set at the Waterside Shopping Centre in Lincoln?
In support of our new 'When am I going home?' campaign the set used in the campaign film has been re-built in Lincoln's Waterside Shopping Centre. We would love your feedback.
---
Why your hospital discharge is important
When you no longer need hospital care, it is better to continue your recovery at home or at another location in the community. This is because:
Nobody wants to stay in hospital any longer than is necessary.

Being in hospital with others who are unwell can sometimes expose you to infection.

Extremely poorly patients may not be able to access an urgent hospital bed if they are occupied by patients who no longer need them.

Meaningful and accurate assessments of your needs, as well as long term decisions about your care, are better made when you are outside of the hospital.

If you stay in bed for long periods, you will lose muscle strength.
What we will do for you and how we will help prepare for discharge…
As soon as you arrive in hospital, our main priority is to get you better again so you can return to the comfort of your own home, or a suitable alternate place.
Never be worried about speaking to staff in charge of your discharge to make sure you have everything you need. This includes a date, care plan and equipment. It is also very important that you ask 4 questions every day when you see the team caring for you:
What is the matter with me?

What is going to happen to me today?

When am I going home?

What is needed to get me home?
You'll be involved in the discharge planning and agree a care plan together. This should include things like:
treatment and care when you get home

who's in charge of your care and how to contact them

when and how often you need care
How you can help with your discharge?
How you can help with your discharge?

To help us help you there are a number of things in which you can do to help make the process smoother. These things include:

arranging for a relative or friend to collect you when you are being discharged, or let the staff know if they need to make other transport arrangements for you.
making sure you have everything you need for your recovery, (It may be helpful to ask a friend or relative to stay with you or visit regularly. If this is not possible, make sure you have plenty of food, drink and other essentials at home).
If you're sent home with a medical device, make sure you know how to set it up and have been taught how to use it.

Other things you can do to help:

provide a forwarding address for any post
collect your hospital discharge letter for your GP or arrange to have it sent directly to them
ensure you have the medication you needget a copy of your care plan (if applicable) – if you're being discharged to a care home, the home should be told the date and time of your discharge, and have a copy of the care plan`arrange your follow-up appointment if you need one
ask for any medical certificates you may need

If you require help with the above or for further information on leaving hospital along with other guidance please visit: Discharge from hospital: What support will I get | Age UK

What if I have housing issues?

When you are admitted to hospital it is important to consider whether you will have accommodation to return to.

Please consider:

If your home may be unsuitable for your medical needs.
Whether a long term stay in hospital may have an effect on your rent payments and tenancy.
If you have nowhere permanent to stay.

Please tell your ward nurse if you have housing issues. There is a Homeless Team in the hospital who will provide advice and guidance.
What can I do as a friend, family member or carer?
What can I do as a friend, family member or carer?

We understand that the hospital process can be stressful for those involved, especially when it comes to discharge. However, it's important to understand that your loved one or the person you care for are more likely to recover quicker in a home environment.

Once they're admitted to hospital, their treatment plan, including details for discharge or transfer, will be developed, and discussed with them. A discharge assessment will determine whether they will need more care after they leave hospital.

They should be fully involved in the discharge process and with their permission, you will also be kept informed and given the opportunity to contribute.

If your loved one / the one you care for has been able to return to their home, there are things you can do to help. These are things such as:

Picking them up from hospital when they are ready to be discharged
Staying with them until they re-gain their health / confidence or visit regularly
Make sure they have everything they need for their recovery
Get food, drinks, and other household essentials in ready for them to come home
Check their home for any potential hazards, such as rugs which could cause trips.

However, if they are not able to return straight to their home there are other options which will be explored. This could be a recovery bed in the community or into a care home, but this will be discussed in hospital with the staff member in charge or a member of the Adult Social Care Hospital Team.
After you are discharged
Next steps after leaving hospital
Will I need to pay for my care?
Provision of care in your own home

If it appears that you have longer-term social care needs, Lincolnshire County Council Adult Social Care can offer you an assessment, which will determine the level of care and support you require. This may take at home, in hospital or in a community hospital or a Care Home setting.

Adult Social Care can give you information and advice or, if required link you into other appropriate services.

Adult Social Care staff will talk to you about which services are chargeable. If you receive services, you will need to complete a financial assessment form and any charges will apply from the start of the service.

A package of care and rehabilitation may also be provided by the NHS. This is subject to assessment by the team on the ward.

NHS Continuing Healthcare

If you have a high level of health or care needs the ward team involved in your care may complete an NHS Continuing Healthcare assessment. NHS Continuing Healthcare is a package of services arranged and funded by the NHS for people outside of hospital with complex continuing health needs. These services can be provided in your own home or in a care home with or without nursing. This assessment can also take place in the community.

NHS-Funded nursing care
---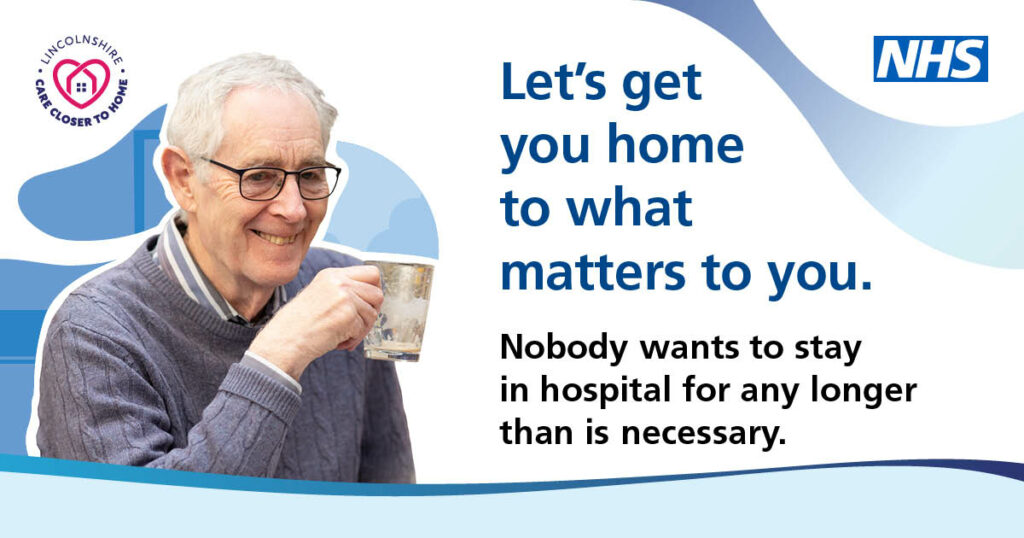 Partner toolkit
Find out how you can make a difference in reducing long stays for patients in hospital. Making this happen is a team effort and we all have a part to play. Download our resources to use across your digital and social media platforms.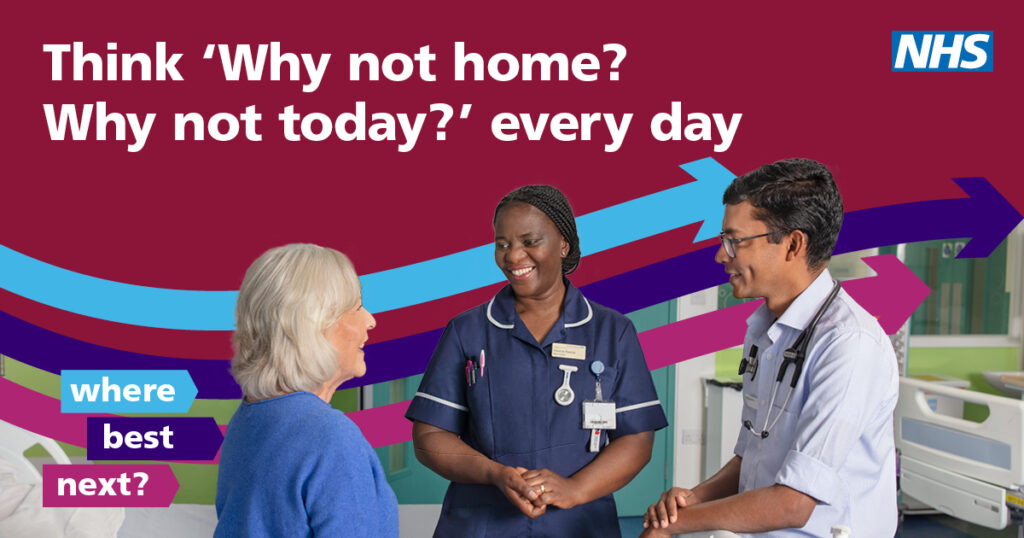 Staff Hub
Find out how you can make a difference in reducing long stays for patients in hospital. Making this happen is a team effort and we all have a part to play. As healthcare professionals, there are several practical actions you can take to help get patients to the best place for them. Visit the staff hub.